Customer reviews are considered to be one of the most powerful assets for B2B marketing. While the internet has brought everything to the fingertips, customers are leveraging the same to evaluate products and services based on the feedback of other customers. According to a recent study by G2, 92% of B2B customers would consider purchasing a product after reading a few trusted customer reviews.
How to Promote Customer Reviews to Generate More Leads
In this customer-driven industry, businesses need to provide them with information, such as customer reviews, case studies, and testimonials to influence their purchasing decisions. Merely marketing the products or services for the features they offer is no longer adequate.
So in this article, we will learn how to leverage customer reviews for lead generation.
#1. Share Social Proof on Social Media
Customer reviews can be beneficial only if they are visible across various platforms. With an extensive user base of over 4.62 billion people, social media is the best medium to reach out to prospects.
Sharing reviews of happy customers on social media serve as social proof for the prospects who are willing to try your products or services. You can learn more about how to generate leads via social media in this article.
Here are a few tips to help you generate more exposure to the reviews on social media:
Know your customers – Identify the customers who have recent positive experiences with your brand and share their reviews
Design appealing visuals – Create attractive images for the reviews and share the same as a single post or carousel on your social media pages
Leverage hashtags – Use hashtags such as #reviewwednesday, #testimonialtuesday, or create a custom hashtag for your brand before sharing the reviews
Identify the best posting times – Choose the times when your followers are the most active for posting the reviews on social media
Add the best call to action – Include a relevant CTA along with the review to direct the followers to a lead generation landing page or your website
Check out this customer review shared by Buffer on its Instagram page.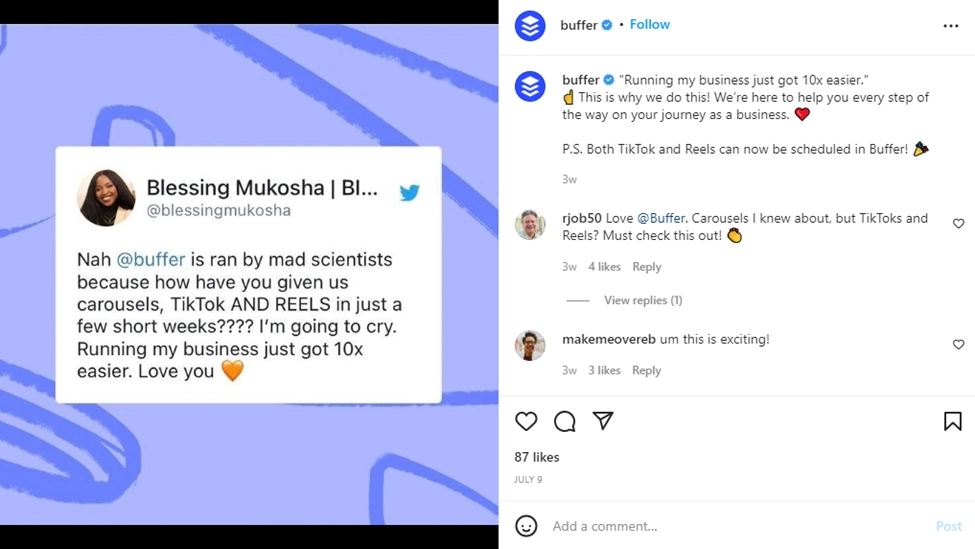 #2. Add Reviews on the Company Website
The company website is crucial for every business. It helps businesses market themselves online and builds credibility. It is another source for generating leads as it provides consumers with all the business information.
Showcasing customer reviews on the website helps businesses deliver social proof and influence prospects towards successful conversions. Website pages, especially homepage and landing pages, are the primary hotspots that facilitate conversions. Including a short textual or video review on these pages will certainly help in converting prospects into customers.
Check out how Workable, recruitment software is showcasing customer reviews on its homepage.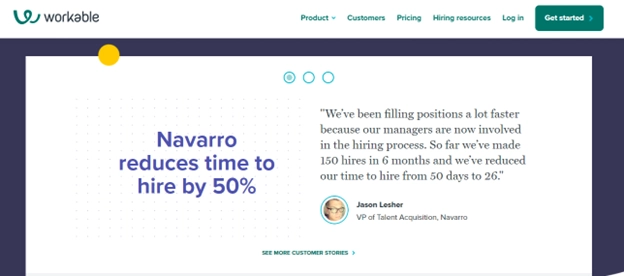 Here are a few things to remember when posting customer reviews on your website.
Quotes – Include short quotations from the reviews on the website homepage
Customer information – Post customers' details, such as name, company name, designation, location, and a picture, if possible along with the review
Content types – Do not hesitate to experiment with different content types and design styles for the review placement
Customer website – Share the link to the customers' websites(with their permission, of course.)
Dedicated page for reviews – Create a dedicated page for reviews and testimonials on your website
Review placement on landing pages – Share reviews on landing pages by identifying the connection between the review and the message your landing page is trying to convey
#3. Use Video Reviews in Advertisements
Video reviews are preferred by 42% of the customers because they showcase the real users of the products and demonstrate how the product helped in simplifying their lives. The prospects will be able to connect with the customers and relate to your products better.
Video reviews boost brand credibility and instill a sense of trust among the leads. By adding a human touch to the brand, video reviews add a whole new dimension to the marketing strategy. They serve as the best sales pitches and succeed in attracting the attention of the leads without any hurdles.
Here is a video review of Google AdWords by its client, Happy Hound. Happy Hound is a day-care facility for dogs. In this video, the lady establishes her problem about not finding the right customers and then, narrates how she started using Google AdWords and the customer base started growing. She ends the video on a positive note saying that she is confident Google AdWords would continue to help her grow her business.
Let us look at a few best practices for creating an engaging video review of your products.
Invest in the right equipment – Get the right equipment for shooting the reviews. This does not necessarily mean you need a studio with high-tech gadgets. Having a DSLR with a ring light can also do the job.
Trust the customer – Let the customers talk about their experiences. Using a pre-written script might make the video review look rehearsed and artificial.
Prepare the questions – If your customers are recording the video by themselves, share a brief or a questionnaire about the points you wish them to focus on.
Focus on video quality – Keep the video short, concise, and engaging. The ideal video length should be anything under two minutes.
#4. Leverage Case Studies to Share Customer Experiences
Case studies are another excellent means of lead generation because it enables the customers to share their experience with your products in detail. In addition to the customer's experience, case studies provide other details, such as the customer's problem, the solution you offered, customer onboarding and support, and much more.
CoSchedule, a marketing management and automation platform, has amazing case studies that will compel the readers to click on the link and read it. Have a look at this screenshot.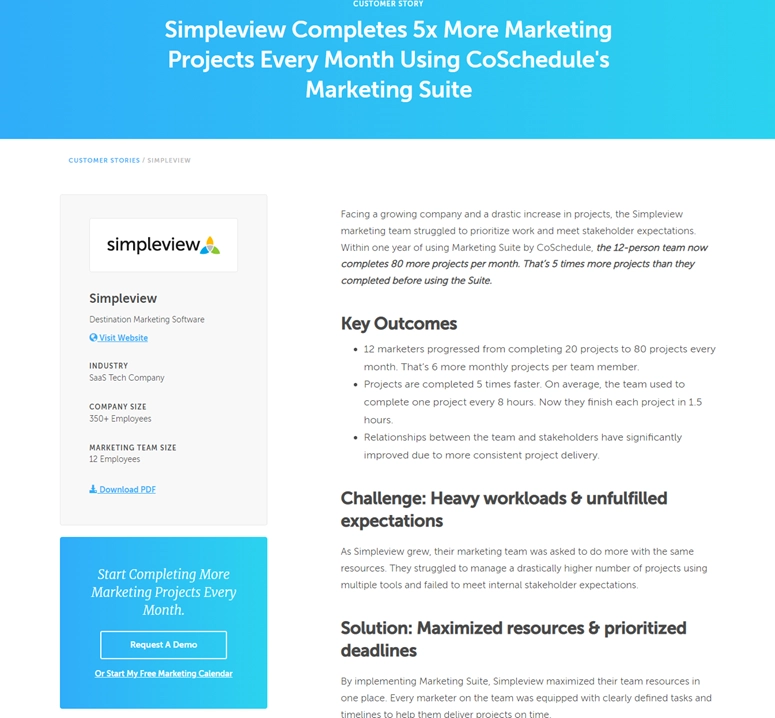 This checklist will help you get started with compiling excellent case studies for your business:
Customers – Connect with your customers and request them for a case study. Offer them some freebies, such as access to premium features, discount coupons, and more for their effort.
Content questionnaire – Prepare a questionnaire containing relevant questions about how your products or services have helped the customers. If your customer base is spread across various industries, ensure that your questions are tailored accordingly.
Case study content – Write engaging content giving in-depth information about the customer's requirements, company goals, and how your product or service helped them achieve those goals. Include statistical or numerical data wherever possible.
Case study design – Ensure that the case study is easy to read. Add relevant headers, images, graphs, bulleted lists, and more to make it appealing. Experiment with different designs and layouts.
Call to action – Do not forget to include a relevant call to action on the case study page in multiple locations.
#5. Host Webinars to Capture Customer Feedback in Real-Time
Last but not the least, webinars play a significant role in boosting lead generation efforts. In fact, 73% of marketers feel that webinars offer a good medium to generate high-quality B2B leads.
Businesses should invest in webinars because it helps you target specific audiences; generally, those who are already interested in investing in a product like yours. It enables you to engage with your prospects in real-time. By presenting excellent industry-related information to the attendees, you put yourself out as an expert and build a sense of trust in them.
Here is a quick five-step guide to help you generate more webinar leads:
Step 1 – Prepare yourself for the webinar by creating an ideal lead profile, selecting an interesting topic, and planning the webinar strategy.
Step 2 – Generate excellent webinar content that will educate the attendees and provide them with solutions to their pain points.
Step 3 – Invest in promoting your webinar on various channels including social media, paid advertising, and more.
Step 4 – Request your existing customers to attend the webinar and share their experiences with using your product. This will create a lasting impression on your prospects.
Step 5 – Do not forget to follow up with the leads after the webinar.
Managing Leads with Lead Generation and Management Tool
Now that you have understood various ways in which you can leverage customer reviews for lead generation, let us learn how to manage these leads and other B2B contacts.
An efficient lead management system like LeadsChilly can help you manage the leads and nurture them as customers without any hurdles. From capturing leads to scoring them, from tracking their activities to communicating with them, lead tracking software helps you foster strong relationships with your prospects. By personalizing every aspect of the lead outreach process, you can convert warm leads into your customers and scale your business.
Conclusion
Customer reviews are excellent mediums to capture the prospects' attention and convince them to make a purchasing decision. We are sure you will follow the tips mentioned in the article to leverage customer reviews to generate the best leads and grow your business.